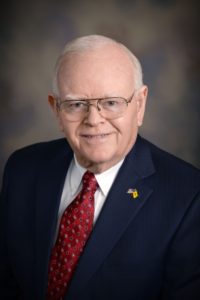 2019 Symposium Moderator
Jerry C. Walker, President & CEO
The Independent Community Bankers Association of New Mexico, Aztec, NM
Walker has held the position as President and CEO of the ICBA/NM since 1996. In his role he is responsible for and oversees the political, regulatory, educational, and administrative functions provided by the association to its members. Prior to this position, Walker was the President/CEO of the Association of Commerce and Industry of New Mexico. He is a former member of the New Mexico House of Representatives (elected in 1980 and reelected in 1982).

The Economy in 2019: Slowing but Growing!
Elliot F. Eisenberg, Ph.D.
The Bowtie Economist, Kensington, MD
Elliot Eisenberg, Ph.D. is a nationally acclaimed economist and public speaker specializing in making economics fun, relevant and educational. Dr. Eisenberg earned a B.A. in economics with first class honors from McGill University in Montreal, as well as a Master and Ph.D. in public administration from Syracuse University. Eisenberg is the Chief Economist for GraphsandLaughs, LLC, an economic consultancy that serves a variety of clients across the United States. He writes a syndicated column and authors a daily 70 word commentary on the economy that is available at www.econ70.com.

Community Banking and the Amazon Effect
(Five Ways to Evolve Your Culture-The Amazonification of Community Banking)
Eric C. Cook, MBA
Digital Strategist, WSI, Battle Creek, MI 
Eric Cook now considers himself a "recovering banker," spending 15 years as a community banker himself before making the shift as a digital strategist in 2007. An award-winning web designer with WSI, the world's largest digital agency network, he's a two-time contributing author of the best-selling book Digital Minds: 12 Things Every Business Needs to Know About Digital Marketing. Eric routinely works with community banks (and small businesses) around the country helping develop a digital strategy, social media utilization, and helping to enhance their overall online presence. As a faculty member for several banking schools around the country, Eric loves educating community bankers and helping lead the digital charge to help connect and engage in the 21st century. Learn more: www.PoweredByWSI.com.  

Creating Order out of the Fintech Chaos
Brian Bauer
Managing Director of Accelerator Programs
The Venture Center, Little Rock, AR
At the Venture Center, Brian Bauer holds the responsibility for program strategy, company recruitment, strategic partner ships and curriculum for The ICBA ThinkTech Accelerator and The FIS FinTech Accelerator. He has directed or supported 48 venture investments spanning fintech, data analytics, and cybersecurity. Brian has co-founded his own ventures, raised capital and led entrepreneurial corporate innovation. Prior to entering venture development, Brian served in The United States Navy as an aerial gunner and crew chief on board the HH-60H Seahawk helicopter and was awarded the Air Medal seven times for support of Special Operations Task Force missions in Iraq.

Hold onto your Breaches!
A Cybersecurity Primer on How to Not Lose Money
Anne Benigsen, CISSP
FVP – CIO&CISO
Bankers' Bank of the West, Denver, CO
Anne has more than 20 years of experience in information technology, 10 years in information security, and 6 years in community and correspondent banking. Her passion is ensuring community banks are prepared for the rapid changes in cybersecurity, compliance and regulation. Anne's alma mater is Bryn Mawr College, where she studied things that never became her profession.

Community Bankers Executive Panel
Ready or Not...the Future is Here!
Facilitator: Karen L. Witt, Partner
Lewis Roca Rothgerber Christie LLP, Denver, CO
Karen Witt is a partner in Lewis Roca Rothgerber Christie's Business Transactions group and is Co-Chair of the firm's Banking Industry Group. Ms. Witt has assisted financial institutions and their holding companies throughout the Midwestern and Western United States for 30 years, with emphasis on capital raising, mergers and acquisitions, state and federal regulatory compliance issues, securities law compliance, corporate governance and strategic planning, among many other areas.

Panelist: Brian Esch, President & CEO
MNB Bank, McCook, NE
Brian Esch is the President/CEO of MNB Bank in McCook, NE and is a director of MNB Bank, MNB Insurance Services, Inc., and MNB Financial Services, Inc. He served on boards of the Federal Reserve Bank of Kansas City – Omaha Branch, the Nebraska Bankers Association, and the Bankers' Bank of the West. Community service includes the boards for school, hospital, church, Chamber of Commerce, and various civic groups. In 2019, he became an ambassador of the University of Nebraska Medical Center. For 33 years, he has been a high school football official. He is a graduate from the University of Nebraska, Lincoln, and the Graduate School of Banking at Colorado.
Panelist: Greg Dixson, President & CEO 
Hilltop Bank, Casper, WY
Greg is currently President and CEO of a long-standing community bank in central Wyoming. Since his start in 2015, he has overseen many favorable changes to an already reputable institution. Hilltop National Bank is an $800 million bank with a $1.5 billion trust department. Greg has served in senior management for over twenty years, much of that time in credit administration. He recognizes the need to adapt to rapidly changing times and leads staff who recognize the importance of constant improvement and acquiring and fully using available technology.
Panelist: Wade Gebhardt, COO & President
Mountain Valley Bank, Steamboat Springs, CO
Wade is currently COO and Corporate President of Mountain Valley Bank which is part of the Platte Valley Companies family. His banking career started in 1991 and has been in banking throughout the Colorado Mountains, primarily in resort communities. He has experience in retail banking, business banking and wholesale AG and construction lending. He attended both GSBC and PCBS Schools of Banking as well as numerous management, leadership and credit programs. Wade enjoys the challenge of developing and initiating strategic planning across complex issues to ensure quality service, manage risk and provide shareholder value. His approach has always been to focus on the timeless concept of relationship banking. Wade has a passion to mentor his team and help them discover at the heart of banking, it is really about people, not transactions.
Panelist: Shawn Osthoff, President
Bank of Colorado, Fort Collins, CO
As president, Shawn Osthoff is responsible for overseeing $4 billion in assets held by the bank across their 45 branches. He is a native of Colorado and received his BS with an emphasis in finance from the University of Northern Colorado in 1990, and earned his MBA from Colorado State University in 1991. Mr. Osthoff is also a graduate of the Colorado Graduate School of Banking. His career with Bank of Colorado started in 1995 and includes extensive experience in lending, loan operations, commercial and agricultural loan portfolio management, and corporate management. Mr. Osthoff serves on the Independent Bankers of Colorado Board, Colorado Bankers Association Committee, and the CSU Real Estate Council Board. He resides in Fort Collins with his wife Crystal and their two children.
The Power of Community Banking
Michael Stevens, Senior Vice President
Conference of State Bank Supervisors
Washington, DC
Michael Stevens is the Senior Executive Vice President at the Conference of State Bank Supervisors (CSBS). Stevens is responsible for leading the organization's government relations, communications, and professional development functions. Mike also serves as the principal deputy to the state banking member of the Financial Stability Oversight Council.

The Game-Winning 3
Dave Davlin, Motivational Speaker
Over 25 years ago, Dave Davlin began bringing smiles to faces with a form of entertainment he developed as a young boy. His amazing ability with basketballs even landed his name and picture in the 1990 Guinness Book of World Records. Combining his entertainment ability with a powerful message regarding success through contribution and service, Dave has made a difference in the lives of thousands, and his impact continues to grow each year as he shares his philosophy and wisdom through speaking and writing.